Tranformers: More Than Meets the Eye #7 hits stores shelves Wednesday. The action shifts from the Hot Ride and rest of the lost Autobots to a Decepticon hunting squad. Click
here
to view the first six pages of the issue.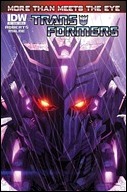 Transformers: More Than Meets The Eye Ongoing #7
James Roberts (w) • Alex Milne (a) • Milne, Nick Roche (c)
DECEPTICON MONTH! The war's over — but no-one told the DECEPTICON Justice Division! Meet the five deadliest DECEPTICONS in the galaxy. Their sole purpose: to hunt down and kill anyone who has ever disobeyed MEGATRON. Who's their next target?
FC • 32 pages • $3.99